Cresleigh Rocklin Trails
Rocklin, CA | High $300,000's - Low $400,000's
NOW SELLING!
When we set out to design our new Rocklin Trails community, we didn't start out by thinking about walls and windows and square footage. We began by thinking about long walks and family dinners and the rush to get your morning started. In short, we started thinking about life and how best to fit that life within the homes that we build.
Rocklin Trails will inspire you to reinvent the way you think about outdoor living. Here, you'll find a lifestyle inspired by walkability. Our paseo-fronting homes create beautiful green-space entries and an open environment, all without compromising privacy. Adjacent to the community, Rocklin Trails homeowners have access to a peaceful and natural creek-side walking trail and in just a short stroll, you'll find the answers to many of your shopping, recreation and entertainment needs.
Within each of the eighty new homes at Rocklin Trails, you'll find thoughtful design to suit the needs of any generation and any lifestyle with energy efficiency and construction longevity at its core.
We invite you to imagine a new way to live – here at Rocklin Trails.
Residence 1
1747 - 1788 Sq. Ft. – 3 beds/2.5 Baths – 2 Car Garage – 2 Story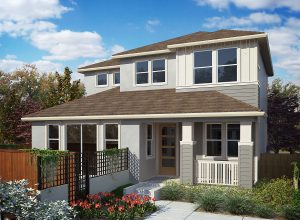 Residence 2
2117 - 2130 Sq. Ft. – 3-4 Beds/2.5 Baths – 2 Car Garage – 2 Story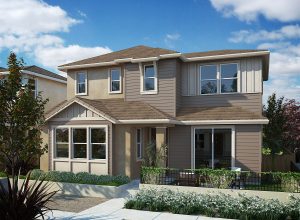 Residence 3
2240 - 2272 Sq. Ft. – 3-5 Beds/3 Baths – 2 Car Garage – 2 Story